The Youth Group (Students 6th-12th Grade)
Youth Group meets on Sunday nights at 6:00 for students in 6th to 12th grade in the upstairs youth loft for a time of great food, fun games, meaningful fellowship and exciting worship. The students often plan fun activities off-site, and every year they go to Camp Siloam in Siloam Springs, AR. Encouraging Christian fellowship and fostering a relationship with Jesus Christ is at the heart of what we do at Big Creek!
On Wednesdays, we meet at 7:00 PM for a Teen Bible Study in the youth loft. Our gatherings are sure to engage, uplift and encourage your teens to live out their faith for the Gospel of Jesus Christ.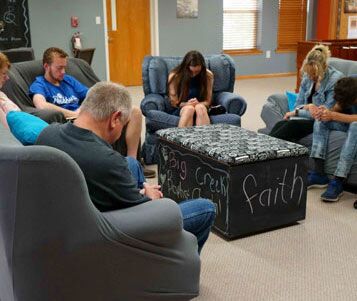 YOU
We hope YOU will come visit us at Big Creek Baptist Church. Before you attend we can answer any questions you might have. Each service offering is a little different than another. Use the link below to reach out to us.
Your Journey Begins Here
Us
We are a family of Christ followers striving to fulfill our Lord's commands to love God and love people. Please come join us for a worship service or attend one of our events soon. We look forward to meeting you and your family.
What to Expect
Him
The Holy Bible was written by men divinely inspired and is God's revelation of himself to man. It is a perfect treasure of divine instruction. Follow the link below to learn more about our beliefs.
What We Believe